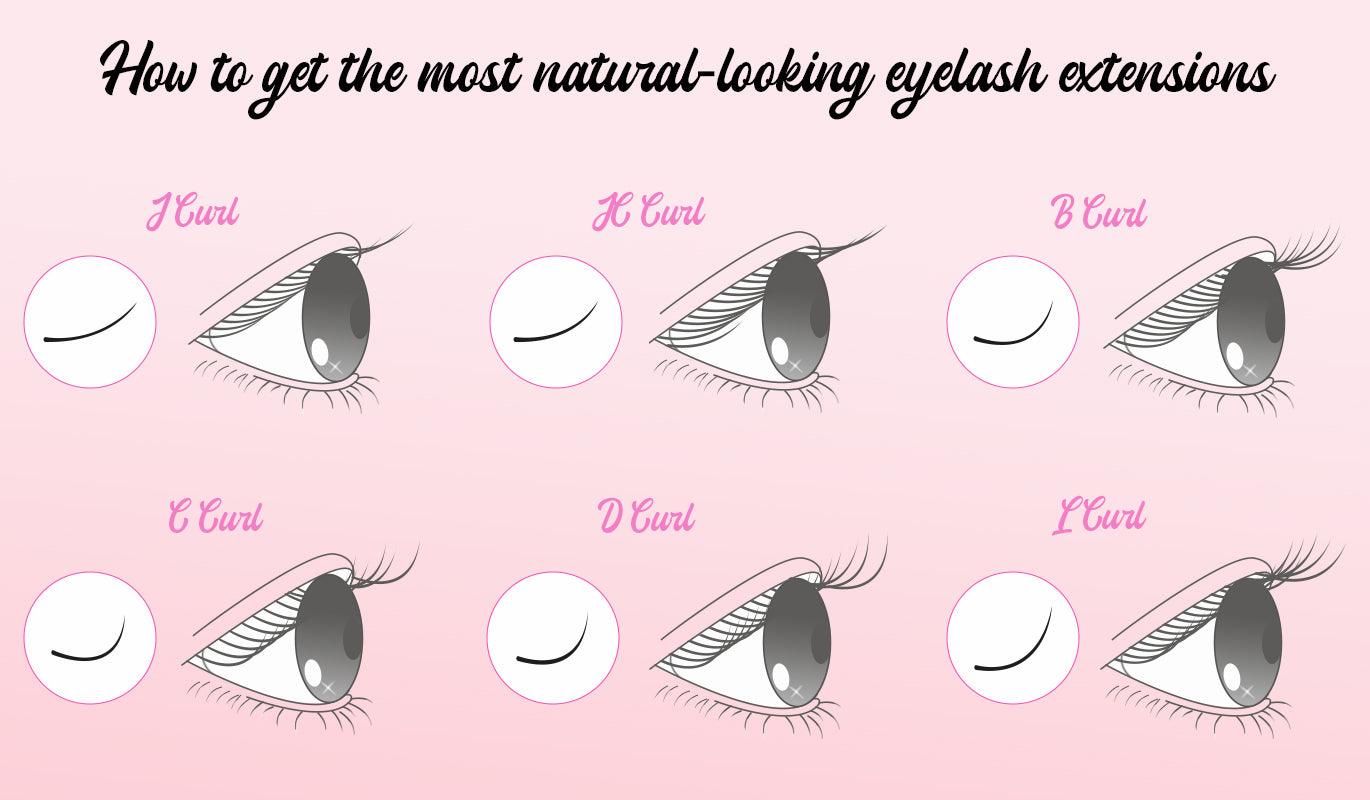 Most Natural-Looking Eyelash Extensions
If you are new to the world of eyelash extensions, choosing the right lash extension style that will best suit your taste can feel a little overwhelming. In this comprehensive guide, I will share the techniques I use to achieve a natural look with lash extensions.
How can you make eyelash extensions look natural
There are 5 aspects to consider when choosing the right extension for a natural look:
Lenght
Diameter
Curl
Material
Color
Let's discuss each of them below
Lenght
To achieve a natural look with eyelash extensions, you should extend the length of the natural lashes by approximately 2 mm. Do you think extending a 10 mm natural lash to 14 mm will look natural? Definitely not. For example, if a client has a 10 mm natural lash, I would use an 11 mm extension. This extra space already adds a bit of length even if you choose an extension with the same length as the natural lash.
Remember that the extension should never be applied at the very base of the natural lash where it would touch the skin.
Diameter
Stay away from very thick extension diameters such as 0.18 mm, 0.20 mm, or even thicker! Instead, simply matching the natural lash diameter or going slightly thicker is the way to go for a natural look.
Curl
Again here, spend some time looking at the curl of the natural lashes. You want to choose lash extensions with a similar curl or only slightly curlier. Anything curlier might not look very natural. If my client is a natural C curl, I would use C or perhaps CC extensions for an everyday look.
Material
It is possible to purchase eyelash extensions with a matte or silky finish. Because they look a lot more natural. Before getting your lashes done, simply make sure the last stylist uses the right material.
Color
Eyelash extensions come in various colors. The most common color is black, but it is possible to have brown, blond, or even more prominent colors. If you want to achieve a natural look, you should choose lash extensions that are the same color as natural lashes.
What's the difference between classic, hybrid, and volume lashes
Classic lashes
Classic lashes are the most common type of eyelash extension, used for more traditional and natural lash looks. It's great for pulling off a simple and unpretentious appearance, especially if you don't want to look flashy. In the picture, you can see classic eyelash extensions before and after. Classic lashes were applied on the left eye on the upper lashes.
From@divine lashes
Classic eyelash extensions are applied at the ratio of 1:1. That means one eyelash extension is added per natural lash one after another to fill the lash line. Because it's one artificial lash on a natural lash, the overall appearance seems natural. Typically, an eye has 90 to 150 natural lashes and this means 80 to 100 eyelash extensions may be added. It depends on how lush or thick your natural lashes are as well as how you want extensions to be.
Today there are various sizes of eyelash extensions used for the classic style from the lowest at 0.10 mm to 0.12 mm, and 0.15 mm as the maximum size.
For those with naturally thick and strong lashes, thicker extensions may also be used. Note that with the thickness of the extensions, their weight also increases.
Your natural lashes can only support a given additional weight added to them. Should you go beyond that weight, the lashes will be unable to support it.
When an extension is too heavy for the natural lash on which it is being applied, the result will not be a straight and natural look. More importantly, the natural lashes will be damaged and can shed prematurely.
Volume eyelash
Volume eyelash extensions use more than one extension per natural lash in what is called a "volume fan". Depending on the fans used, it could be a volume fan or a mega volume fan. Typically, a volume lash uses 2 to 5 extensions per fan while a mega volume fan uses 6 to 16 artificial lashes.
Volume eyelash extensions are applied at the ratio of 1: many. That means several eyelash extensions are added per one natural lash. The eyelash extensions are bundled together in a volume fan before getting applied to your natural lash. A lash tech uses 2 to 16 lashes per fan on individual lashes. The ratio is decided by the extent of the voluminous effect you want. The total number of extensions per fan is referred to as 2D, 3D, 5D, 7D, 10D, etc.
A volume set uses several lash extensions in every fan and the thickness of each extension is generally lesser than that of a classic set. Lash techs generally use false lashes of sizes ranging from 0.05 to 0.07 mm for standard volume sets and 0.03 to 0.05 mm for mega volume sets. For instance, a 10D fan might use extensions of 0.03 mm each, a 4D fan of 0.05 mm each, and a 2D volume fan extension of 0.07 mm each. The total weight of the fan depends on the strength of your natural eyelashes too. If the fan is too heavy, damage may be caused to your natural lashes.
From@divine lashes
Hybrid Eyelash
One of the newest lash treatments available today is the hybrid style. In this, classic and volume styles of lashes fuse into one to create a hybrid variety that customizes your eye even better than either style.
As we have already seen above, classic lashes use a ratio of 1 extension to 1 natural lash while volume lashes use a ratio of many extensions to 1 natural lash. Typically, eyelash techs go for 50-50 or 70% volume and 30% classic in a hybrid set.
As a hybrid lash set combines the thicknesses of both volume and classic sets, the thicknesses vary accordingly too. Your lash tech may use thicknesses of 0.07 mm, 0.10 mm, or even 0.15 mm for the classic lashes that will be applied or thicknesses of 0.03 mm and 0.05 mm for volumes lashes that will be applied. If you've moderately long and healthy lashes, hybrid lashes are the way to go. That being said, hybrid lash treatment works wonders on those with thin or weak lashes too.
From@divine lashes