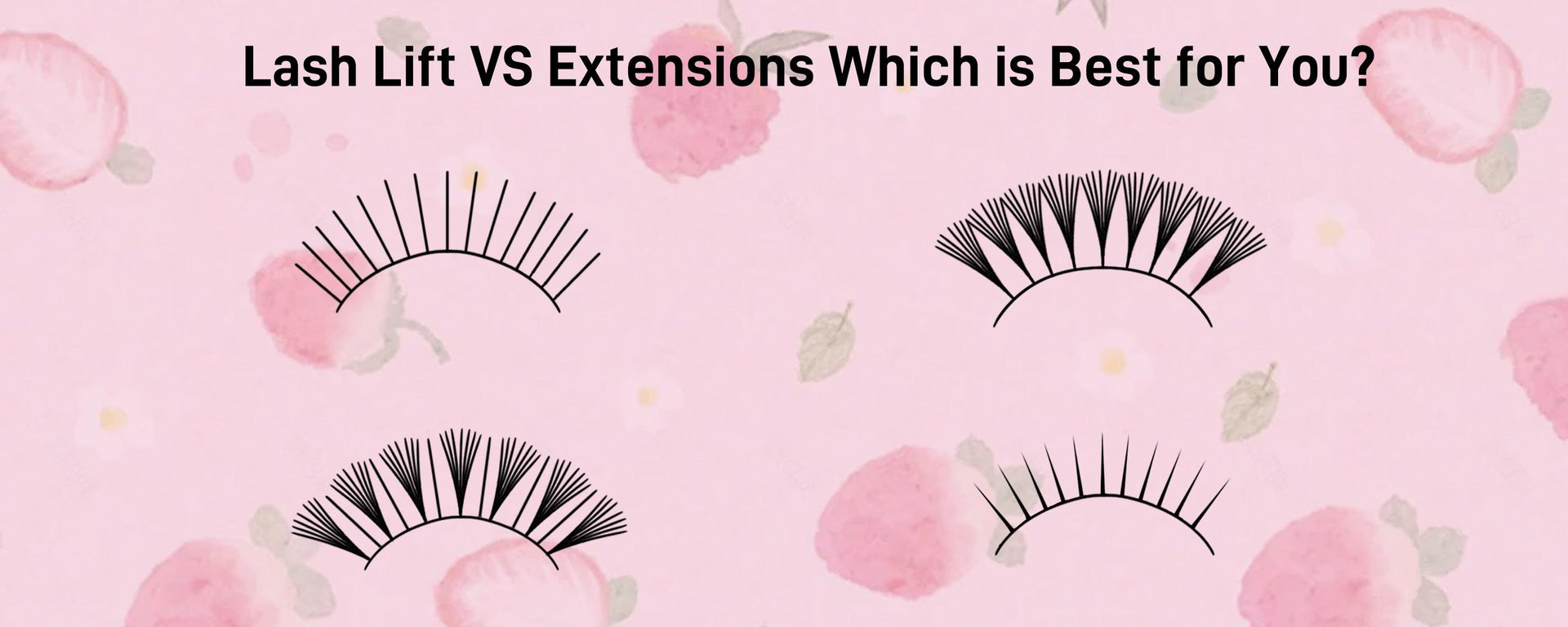 Lash Lift VS Extensions Which is Best for You?
Are you looking for a way to make your lashes look longer and fuller with added tone and depth? Then you would most certainly know that lash treatments can make a huge difference. As the lashes are considered to be most important in making your eyes pop, for that matter these treatments have become the most popular beauty treatments. But what type of treatment should you go for? Which one would be the most suitable to make you stand out from the crowd? You have two options for that purpose: Eyelash extensions and eyelash lifts. Let's give you a comprehensive account of their difference to help you figure which one would be the most suitable for you.
What is lash lift?
A lash lifts use perm salts like the one's beauticians and salons use in hair styling processes.
These chemicals are used on your eyelashes to get them to curl just as they would if you were to get a permanent wave in your hair. They make your natural lashes appear thicker, fuller, and longer.
Source Instagram@lashlift.beauty
What are eyelash extensions?
Eyelash extensions work like hair extensions. Made from synthetic or animal-derived materials, extensions are artificial lashes attached to your natural lashes with glue.
Available in various colors, styles, and textures, eyelash extensions are designed to give your lashes a fuller appearance. This can be through adding dramatic length, thickness, or both.
Source Instagram@lashlift.beauty
Difference between Eyelash Extensions and Eyelash Lift
Although both the treatments are used to make the lashes longer, fuller and alluring, however, they work differently. Eyelash extensions involve the bonding of individual lashes to your natural  
lashes with the help of a medical grade adhesive by an experienced artist to make them look physically fuller and longer.
On the other hand, a lash lift involves the natural curling and perming of your lashes to make them appear longer and fuller. So, the lash lifts give an enhanced look to your natural lashes while the eyelash extensions can be used for a rather dramatic effect. Ultimately, it all comes down to your preference.
Though both are designed to make your lashes look fuller and longer, eyelash lifts and lash extensions are not the same.
Source Instagram@esthetically_pleased
Treatment
An eyelash lift enhances the appearance of your natural lashes, while extensions are attached to your lashes.
Aestheticians, or lash artists, attach the extensions to your lashes one by one, making this a pricey and time-consuming procedure that requires a bit of maintenance to keep up.  
Effect
Both options will eliminate having to use eye makeup to get a bold lash look. Lash lifts and extensions call attention to your eyes and make them look bigger. The customizable materials, colors, and styles you can choose to create a unique look.
Durability
When you get an eyelash lift, chemicals are applied to your eyelashes. This can make your lashes dry and brittle and lead to breakage in some cases. It's critical to do your research to find the best salons and aestheticians to ensure your lashes are protected and healthy. A lash lift lasts from six to eight weeks– that's up to two months!
The durability of lash extensions depends on the quality of the material they are made out of, your lash artist's skills, and your ability to care for and maintain them properly. The artificial lashes are not reusable and you need to get lash replacements every four to six weeks.
Maintenance
Generally speaking, eyelash extensions require more maintenance and upkeep. The glue used to attach each individual lash doesn't last forever. Quality varies with some salons using cheaper materials with weaker adhesives than others.
You also need to be hyper-vigilant with caring for your eyelash extensions and know that certain cosmetics and makeup removers can dissolve the glue bond and wreck your look.
How to choose the right one for you?
In order to choose the best one for you, it is important to know what type of look you want to attain. If you want a dramatic look, go for the extensions while for a natural look, lash lift would be more suitable. Furthermore, if you have short lashes, lash extensions would be the best solution for you.
Source Instagram@pretty_eyes_by_kellieanne
So, go ahead and choose between eyelash extensions and lash lifts by figuring out what exactly you want. You can visit our website for further details and guidance on both the procedures. Get the most alluring eyes by getting the right procedure done to enhance your eyelashes.